Centum Consulting stands as one of the leading recruitment company in India dedicated to helping you build your talent pool. As an India's Pioneer Executive Search Firm, we benefit from its world class infrastructure, resources, recruitment consultants and network.
Our team of professional recruiters, some with over a decade of experience in the industry, is complimented by team with deep domain expertise capable of delivering services of the highest quality and offering end-to-end support.
We have an excellent computerized data bank to cater to an organization's entire needs of manpower in all disciplines. We offer specialized services for the same through our following placement divisions:






Information Technology
eCommerce
Banking, Financial & Insurance Services
Industrial Engineering Resources
Consumer Services, Retail & Telecom
FMCG & FMCD
Pharmaceutical & Healthcare
Power & Material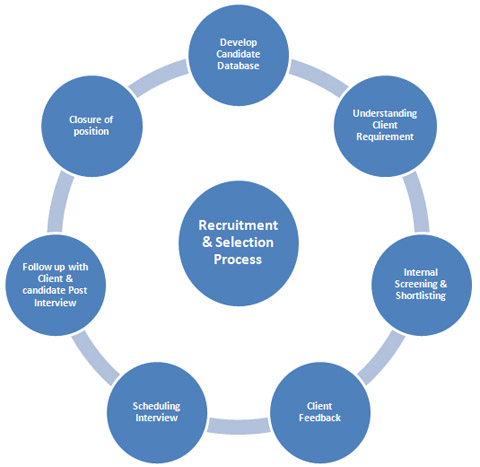 Talent Acquisition:
We cater to senior level / niche positions across industry verticals encompassing a holistic process right through to closure. We cover an End-to-End Search, drawing up a Skill Matrix, charting the Grade Equivalence as per the requirement and enabling Competency Mapping for suitable selection.
Project based Recruitment:
This is a cost-effective option to address talent needs under short timelines. Our ability to service customers across India quickly without the compromise of quality helps clients build scale effectively and efficiently.
Advertised Selection:
This enables us to reach the widest possible candidate base from a variety of backgrounds, geographies and skill sets. Through the use of creative designs and informative advertisements we are able to attract talent, and provide clients with an End-to-End Service with comprehensive feedback, analysis and modified MIS reports.
Contingent Recruitments:
We aim to fulfill on-going requirements through profiles sourced via our multi-pronged approaches – be it our in-house databases, support from channel partners, field sourcing, market mapping and referrals or even scheduled walk-in drives.
Our specialized recruiters are adept at addressing vertical specific demands, enabled by strong technology support systems to ensure successful mandate delivery and client satisfaction.
Recruitment Process Outsourcing (RPOs):
As an RPO expert, we own and manage the entire recruitment process with 100% hiring fulfillment. By re-engineering the internal hiring practice, we have been able to refine recruitment strategies and sourcing channels to ensure 100% fulfillment of all direct hiring needs.
Centum can offer its clients a controlled, guided and cost-effective solution for their long-term needs. With centralized on-site support and management, we ensure all client requirements are accommodated to provide a comprehensive recruitment partnership.
Centum maintains confidential information whether received from the client or from candidates.
Interested in Permanent Recruitment ? Click here..