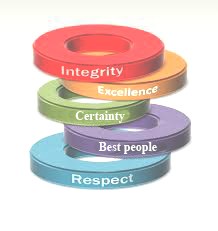 Integrity:  Our core values continue to reflect a commitment of doing business and achieving our success ethically.
Excellence:  We strive constantly improves our services and honor all commitments for growth to become the best.
Certainty:  Our customers' delight powers our success and exceeding customer expectations is our motto. No matter how big or small a project is, it will be delivered with the highest degree of precision.
Best People:  At Centum, we focus on employee first. We believe that employees bring strategic value to an organization. The future growth and competitiveness of any organization depends more than ever before on attracting best talent engaging and empowering them to achieve their own and the organization goals.
Respect:  Holding in high esteem the worth of our clients and treating all we encounter as we would wish to be treated.