The art of future-orientation
We live in an era where change doesn't knock on our doors before barging its way in. Given that organizations are constantly at the mercy of new competitors, regulations and other environmental factors not within their control, the ability to accurately anticipate the future becomes a vital competency for leaders and decision-makers.
"To be future-oriented, one needs to continuously upgrade their current skill-sets and learn beyond his/her area of expertise. One should utilize the increased availability of newer technologies, pick them up and put them into practice. One should collaborate/network with leaders in his/her industry, be an avid reader on the latest developments in the sector, have constant discussions/debates with colleagues with similar skill-sets, take part in learning programme, think and develop out-of-the-box ideas and always be passionate about the career/job." .
In order to be an organization that is well-prepared for any challenge that might come its way, it is essential for its leaders to keep a keen eye out for trends in the industry. "Change is the only constant. Organizations constantly adapt to the change in preferences and tastes of existing customers and build capabilities to cater to upcoming market needs. An organization is really the sum of all its employees and it is our responsibility to stay ahead of the curve and give our employees the means to be a part of the change," agrees J Subramanian, chief, group HR, Gati Ltd. "Future orientation is a direct function of learning from the past. You have to go back a bit and capture your journey in the last ten years and figure out the changes you and the enterprise have been through. Market movements, financial ups and downs and international relations also impact the future greatly," feels Arman Chaudhary, head – talent management, Emaar MGF Land Ltd.
Predicting the future is routine for technical forecasters and some professionals in the finance industry. Why then can't professionals in other roles apply the same skills and empower themselves to handle the future? " To be future-oriented, one has to be up-to-date with the latest trends in the market, have a 360-degree viewpoint and then foresee its impact in future. Therefore, it is no more about implementation and influence in the present, but about 3s in the long term – sustainability, survival and stability," opines Dr Shalini Sarin, country partner – VP HR & CSR, Schneider Electric India.
Gaining an insight into the future is not an easy task and organizations often fall short of keeping pace with the fast-occurring changes around them. "The certainty as well as probability of future challenges often go unheeded despite individual managers being aware of it. The high corporate mortality rate is only a symptom of deeper problems that afflict all companies, not just the ones that vanish. The deeper problem is of learning disability, of not being able to anticipate future challenges and of inertia against transforming oneself towards the future. How many today work towards making their products or services obsolete, so that they can innovate their next offering to stay relevant and ahead of the competition," asks Amit Mallik, director- HR, Aviva Life Insurance. He lists the qualities of a future-oriented professional:
1) Learning agility:  It is 'knowing what to do when you don't know what to do or how to do'. Learning agility in combination with the ability to spot trends and predict future certainties and probabilities would make a true future-oriented professional;
2) Ability to reinvent: It is very important to challenge the product or service that is giving you your current competitive advantage and work towards replacing it with something that even the customer or end user has not anticipated;
3) Courage: This is essential to ensure that you can transform your ideas into reality. This requires the ability to convince and collaborate, leading to building a strategic capability.
"Over the years, I have released that employees who are willing to rethink their own ideas adapt faster to the needs of the changing environment around them. I call them the 'rethinking learners'. They are more solution-oriented in their thought process and more inclusive in their style of operations. Additionally, they work with the long-term success of the organization in mind. They evaluate any situation from a bird's perspective when flying over a cliff – it would increase its flight and allow it to take off to reach greater heights than fall down to its end," says Preeti Marwah, head- HR, Power2SME. Many such future-oriented professionals and leaders collaborate to form a successful, anticipatory organization.
What is 'future-orientation'?
Organisational Future Orientation (OFO) is the ability to identify and interpret changes in the environment and trigger adequate responses to ensure long-term survival and success.
Rajesh Padmanabhan, president and group CHRO – Sesa Sterlite Limited, Vedanta lists the key attributes of a future-oriented leader:
Influencer rather than a manager;
He/she is a collaborator and an innovator;
They execute flawlessly;
They harbour a vision/foresight of the business landscape;
Strategic orientation;
High business acumen;
Cross-culture skills;
Team dynamics;
Commercial sense;
A high appetite for risk.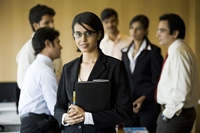 ————————————————————————————————————————————————————-
Your best foot forward
Fresh graduates face several challenges while settling down at the workplace
Transitions at any level or life stage are difficult. As an experienced corporate professional, when one looks back at transitions made; first job out of college, mid-level job changes, role changes, changes in geographies, and even in the personal sphere from being single to married to parenthood; truth be told, none are easy.
The criticality of handling transitions with awareness and a sense of being grounded cannot be overstated. While it is in the interest of any company that hires fresh graduates, to see that they emerge successful through the transition from college to career, at the end of the day, it is the graduates who have to do the hard work to ensure they emerge victorious. Simply, it is about them moving from one life stage to the next.
Maturity, taking initiative, accountability, communications – written and spoken, discipline, resilience, energy, passion, and attitude are all keys to success for graduates entering the workplace. It is nothing less than a paradigm shift, which will require cosmetic and core changes.
For instance, grooming is of utmost importance in the workplace and though it does not convey competency, good grooming demonstrates a sense of self-worth and a regard for the professional environment and culture one is in. At the core level, similarly, it boils down to the ability of seeing and adapting quickly with changes that are not a consequence of one's own decisions or actions.
Thoughtful organisations have put in place robust college-to-career transition programmes. These would typically offer intense knowledge about the organisation's ways of working; develop behaviours that will help young professionals succeed in competitive and demanding workplaces, and nip-in-the-bud those that are unacceptable in a professional work environment.
Some of the common obstacles a young graduate faces while settling down in the workplace are as follows:
Coping with work and life pressures
University life is largely secure. You have a protective environment that encourages and nurtures you to perform. The real world is a harder place with fewer buffers. The first step towards coping and surviving in it is to acknowledge that it would require toughening up, and a change in mindset and prioritising. In addition to performing and getting along at work, young graduates also need to take care of personal demands such as setting up your own place to live, taking care of personal finances, juggling professional and personal commitments.
Tardiness in fulfilling professional commitments
Submitting an incomplete project report or showing up late for a professional meeting or simply to work has more dire consequences than committing the equivalent during college days. They can result in poor evaluations and a slide down the career ladder. The quicker young professionals realise it, the better it becomes for them in the corporate environment.
Realising the importance of professional communications across the board
The millennial generation in particular uses social media with a savvy unmatched by others. As a working professional, one needs to understand that your messages on any social media platform not only represent you as an individual but also the organisation you work for. At an individual level, training in communicating and working productively and professionally with colleagues and clients as well as through email and phone and face-to-face communications etiquette is a must.
Striking the work-life balance
Most certainly, a full-time nine to six job does not allow the same freedom that a college schedule with fewer daily hours and many more vacations does. A fine balance is needed and the earlier it is set in motion in a young person's career, the fewer the chances of burnout and conflict later. Encourage hobbies outside of work that keep the passion of young people alive; it will only be extended to performance at work.
Putting your best professional foot forward in a career after years of college life isn't rocket science but does require a concerted effort and willingness to change. If consciously worked on in the initial days by new joiners and supported by the organisation, both will be successful.
- The author is VP, HR – HCL Technologies Ltd
 courtesy by : Times Ascent